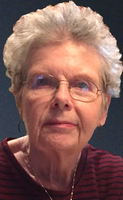 Marilyn A. Terkoski
Marilyn Terkoski was a loving wife, mother, grandmother, sister and friend to many. She passed away in the company of family on May 23, 2023.
Marilyn was born in Elmira, a daughter of the late Thomas G. Sr. and Virginia Colegrove Dean. She was also predeceased by her husband of 57 years Thomas W. Terkoski. Marilyn is survived by her sons, P.J. Terkoski and husband Francisco Briseno of Long Beach, NY; Jason Terkoski of Elmira; daughter Christin Terkoski with Joel Cortez of Elmira and her children, Selene, Jadyn and Tyrese Terkoski; brother and sister-in-law, Thomas and Margaret Dean of Buffalo; sisters and brothers-in-law, Karen and Mark Sweeney of Corning NY, Kathleen and Richard Murdock of Palm Harbor FL, Kim and Curt Ripley of Elmira; numerous nieces and nephews.
Marilyn graduated from Southside High School and later married her boyfriend and neighbor Tom Terkoski. She worked as a telephone operator, but sacrificed her career to raise her family. She went back to school and completed her Bachelor's Degree at Empire State College. She worked at Catholic Charities in the first-time homebuyer program and helped many achieve the American Dream of becoming a homeowner.
Marilyn was a great cook and loved inviting others to her home for dinners and holiday celebrations. She took pride in restoring and beautifying her historic home. In her free time, Marilyn enjoyed flower gardening. She was a card shark as well and could last for hours if anybody wanted to play. Marilyn loved her NY Yankees, and if they were playing, she was watching.
Marilyn was a devout Catholic and served the Church in a myriad of ways, including teaching religious education class, reading at Mass, cooking at the Community Kitchen for decades, and laundering altar linens.
Marilyn will be remembered for being a great listener. Those who met her will remember her kindness and her ability to instill hope in others, especially when they needed it.
Family and friends are invited to McInerny Funeral Home, 502 W. Water St., Elmira, Wednesday, May 31, 2023 from 4:00 p.m. to 7:00 p.m. A Mass of Christian Burial will be held at St. Patrick's Church, 604 Park Place, Elmira on Thursday, June 1, 2023 at 10:00 a.m. Marilyn will be buried at Woodlawn Cemetery at a later date.
Those wishing may remember Marilyn with a donation to The Elmira Community Kitchen, c/o Catholic Charities, 215 E. Church Street, Elmira NY 14901.