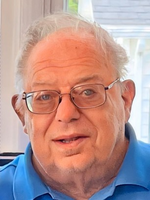 James W. "Jim" McFarland
Age 85, passed away at the Arnot Ogden Medical Center on Saturday, May 20, 2023, surrounded by his loving family. He died as a result of an accidental fall at his home. Jim was born and raised in Elmira, a son of the late James H. and Helen Schiefen McFarland. In addition to his parents Jim was predeceased by his stepmother Ruth Mayes McFarland; sisters Ann Hitchcock and Joan Rommelt, father and mother in-law, John and Margaret Ryan sister-in-law, Diana Ryan and brother in-law, Douglas Rommelt. Jim is survived by his loving wife Marjorie Ryan McFarland. Jim and Marge celebrated their 65th wedding anniversary on May 17, 2023. He is also survived by his three children and their families, Kathleen M. and Dr. Thomas Minotti of Elmira with their children Matthew and Ryan, James "J.R." and Cheryll McFarland of Horseheads with their children Tricia (Tad) White and Patrick (Sara) McFarland, Julie A. and Bill Casbolt of Elmira. In addition, he is survived by his brother and sister-in-law Michael and Mary McFarland of Horseheads; brothers-in-law, J. Gerald Ryan of Big Flats with Barbara Weigand, and Richard Hitchcock of Elmira; along with many nieces, nephews, and cousins.
Jim was someone you could always count on. He loved a good game of Euchre and loved sitting on his deck overlooking Keuka Lake. Most importantly, he loved his family! Jim was a member and two-time past president of the Msgr. John J. Lee Division of the Ancient Order of Hibernians. He was also a member of Elmira Elks Lodge #62. Jim retired as vice president and part owner of John G. Ryan Inc. He and Marge enjoyed their home on Keuka Lake for over 35 years.
A special thank you to all the nurses at Davita Dialysis in Corning, NY for the love and care they showed Jim the last 5 years.
Family and friends are invited to McInerny Funeral Home, 502 W. Water St, Elmira, on Tuesday, May 23, 2023, from 4:00 p.m. to 6:00 p.m. A prayer service will be held there on Wednesday, May 24, 2023, at 1:15 p.m. followed by a Mass of Christian Burial at 2:00 p.m. at St. Mary's Church, 224 Franklin St., Elmira. A livestream of the Mass will be available through the Facebook page for Most Holy Name of Jesus Parish (https://www.facebook.com/ElmiraCatholic). Committal prayers and interment will then take place at St. Peter and Paul's Cemetery. In lieu of flowers, those wishing may remember Jim with a donation to the National Kidney Foundation at http://www.kidney.org or St. Mary's Church in Elmira.
Officers and members of the A.O.H. will meet at the McInerny Funeral Home on Tuesday, May 23th at 6:00 p.m. to conduct a service for our brother James McFarland, Signed, Fran Whitford, President