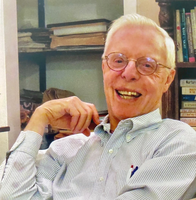 Robert Bruce "Rob" McKinnon
Robert Bruce McKinnon aka Gumpity aka Gumpy Rob aka Mr. Rob died peacefully at home on the morning of May 1st, 2023, surrounded by his kids.
He may have sold you a car, told you a story, beat you at cribbage (or gin, or hearts, or bridge, or golf) or asked you for a clue to a crossword puzzle; and he may have done so more than once since he spent nearly his entire life in Elmira. Always generous with friends, family and community, Rob lived a wonderful life and will be remembered fondly by all who knew him.
Growing up on Hillcrest Road, Rob and his sisters, Susie and Molly, were surrounded by horses and dogs and the love of their parents, Jim and Rachel. He inherited his integrity and sense of fairness from his father and his fabulous sense of humor from Rachel. Not a bad combination.
Rob attended Carrs Corners School, a two-room schoolhouse at the end of Hoffman Street, where he benefitted from sitting in the same room with students both older and younger than him and where he developed some of his dearest friendships. He did so well there, they let him into Choate Academy, and later, Colgate University. While not one to brag about his academic career, he certainly lorded his mastery of proper grammar over endless victims.
Rob fell in love three times in Elmira. First to Elmira College coed, Janet Gagnon, upon his return from a 3-year tour in the Navy. They had three children – Megan, Anne, and Matthew. Their years on Scott Avenue were filled with neighborhood camaraderie, cocktail parties, Big Wheels, used cars and all things 1970's.
On to Larchmont Road with his second wife, Frances Wells (Cordonnier) and her two sons, Henry and Eric. Teenagers, newspaper routes, a blended family and more used cars filled these years. His life was enriched by the McKinnon/Wells union. Additionally, Rob's care for Fran during her struggle with breast cancer was indicative of his truly compassionate nature.
Finally, Janna Keser has been his companion and wing woman for these last twenty years. Janna is the one person on the planet who says yes to invitations as readily as Rob. They spent many years enjoying adventures, travel, art, grandkids, concerts, plays and of course, each other. Janna cared for him throughout his final years, weathering all that came their way.
His other love, Elm Chevrolet, looms large. Having spent his entire career there (1963-2020), first working for his father as a salesman, then used car manager, and then General Car Manager. He became President in 1972 and purchased the dealership from his father in 1978. He worked very hard to maintain Elm Chevy's sterling reputation for honesty and fairness which has personified the dealership since the beginning. In 2008, Rob began the process of selling the dealership to his cherished General Manager, Tim Van Fleet, confident that Tim would carry on this same culture and success. There are many, many beloved Elm employees who served as another form of family in Rob's life and whom he treasured deeply. They treasured him back.
His love for Elmira is legendary. Was there a board he wasn't on? Rotary, St. Joseph's Hospital, the Orchestra of the Southern Finger Lakes, Southern Tier Economic Growth, the Clemens Center, where he was named the Inaugural Trustee Emeritus. He was also honored with the Community Foundation Award for Passionate Philanthropy for his vision, principle, and personal commitment. He was a tireless advocate for his community. We can't possibly name or describe all that he did for the people and organizations of Elmira – this obit would never end.
Rob was a lover of all things edible, drinkable, and playable. He was a shameless fan of scrapple and chip beef, an unfortunate trait he instilled in his three children. Golf and bridge were perhaps his two favorite games, and it was a joy for him to be able to play them with so many of his best friends over the years. For such an easy-going guy, he sure chose some challenging hobbies. We're pretty sure he studied harder for Bridge than he did geometry.
Cribbage was the game he played when not playing golf or bridge and the game he taught his grandchildren who spent endless hours trying to beat him. And of course, Hearts, our family game. Played on many vacations and holidays for decades, this may be one of Rob's greatest legacies. And it's not lost on his family that the card game's name is analogous with Rob himself.
Rob is survived by his two sisters and their families, Susie (& Pete) Paxson and Molly Baxter, with whom he remained as close as siblings can be until the end, his partner Janna Keser and her children, Kerry Linden, Kristin (& Patrick) Ellis and Paul Keser and her grandchildren, his daughters, Megan (& Greg) Moffroid and Anne Wolf (& Chris Bartlett), his son Matthew (& Nina) McKinnon, his stepsons Henry ( & Gina) Wells, Eric Wells and his gaggle of grandchildren Hannah, Ethan, Izzy, Calvin, John, Libby, Madison, Andrew and Cadence.
One little known fact about Rob is that he was mildly obsessed with reading obituaries. In fact, one might say that reading them was a favorite pastime, especially those from the New York Times. It's true what he said that all sorts of interesting people die having led very interesting lives worth reading about. It does, however, put some undue pressure on the writing of this particular obituary. Hopefully, he would have approved of this one (and the grammar herein) and of a paraphrase borrowed from one of the many obit clippings found in his desk drawer – "He was loved by many and liked by all; this cannot be overstated."
In lieu of flowers, donations can be made to:
The Falck Cancer Center, 600 Roe Ave, Elmira, NY 14905 www.arnothealth.org,
CareFirst, 3805 Meads Creek Road, Painted Post, NY 14870-9509 www.carefirstny.org, or a charity of one's choice
A celebration of life will be held at First Presbyterian Church, 1054 W. Clinton Street, Elmira on Saturday, June 17th at 10:30am.