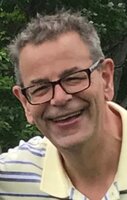 Paul Patrick Mack
Paul P. Mack, age 59 of Horseheads, NY passed away unexpectedly at home on Sunday, April 30, 2023. He was born at St. Joseph's Hospital in Elmira, NY, the son of Martha (Nagle) Mack and the late Francis J. Mack, Jr. He is also predeceased by his infant nephew Brian Lee, brother-in-law Tyrone Ross, along with several aunts, uncles, and cousins. Paul graduated from Notre Dame High School in 1982 and Mercyhurst University in 1986 with a bachelor's degree in Hotel Restaurant Management. From age 22, Paul worked in New York and South Carolina in the restaurant business before returning to his hometown where he was the Food Services Manager at his Alma Mater, Notre Dame High School.
In addition to his mother, Paul is survived by his two sons, Paul P. Mack, Jr., and John "Jack" Francis Mack, both of Mt. Pleasant, SC; siblings, Suzanne (Douglas) Lee of Walworth, NY, Mary Ross of Concord, NC, Francis Joseph "Joe" Mack III of Rehoboth Beach, DE, and Patricia "Trish" Mack, of Horseheads, NY; niece Noelle Ross of Concord, NC; nephews, Alex (Danielle) Lee, and daughter Brooklyn Lee, of Auburn, NY, Andrew Lee of Waterloo, NY; special cousins, Karen, Bridget, and Aimee Churchill, of Horseheads, NY; aunt Margaret "Peg" Nagle of Baldwinsville, NY.
Paul's life was surrounded by friends who became family. The entire Gough family of Horseheads, NY embraced Paul as one of their own. When the Mack's moved to Horseheads, NY from Elmira in 1978, they became neighbors with Gough's and Paul connected immediately with the entire family. The love and lifelong memories created will forever be remembered.
Paul was a lover of all dogs especially his yellow lab, Daisy, and golden retriever, George.
Paul lived his life with gentleness and kindness. He was a man who often openly expressed his love for others and was grateful for the love from friends and family that flowed back to him. Paul's sincerity and sense of humor was a gift to all who knew him.
Calling hours will be on Wednesday, May 3, 2023, 4-7pm., at McInerny Funeral Home, 502 W. Water Street, Elmira. A Mass of Christian Burial will be held on Friday, May 5, 2023, 12:30 pm, Charles and Mary Crossed Auditorium at Notre Dame High School, 1400 Maple Avenue, Elmira, NY 14904.
In lieu of flowers, donations may be made in Paul's name to his Alma Mater, his beloved Notre Dame High School, Elmira, New York.