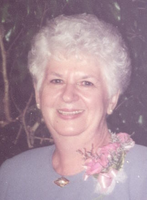 Joyce A. McCann
Elmira: Age 84, passed away on Friday, April 28, 2023, at the Chemung County Nursing Facility. Joyce was born and raised in Elmira, the daughter of Morton and Isabel (Kenyon) Nivison. In addition to her parents, she is predeceased by her stepmother Stella Elizabeth Nivison, husband James F. McCann, brothers-in-law and sisters-in-law, William and Joan McCann, Helen and Robert Dean, niece Ellen Friedrich and nephew Robert Dean, Jr.
Joyce is survived by her daughters and their families, Mary Beth and Nick Anthony Volino of Elmira and children, Anthony James and Michaela Rose Volino…Karen McCann of Rochester…Carolyn and Gregory Schutrum of Elmira and daughters, Brittany and Victoria Schutrum…Bernadette McCann-Patelunas and Eric Patelunas of Elmira and children, Kiersten (Nicolas) Swank, Aaron James, Andrew James and Eric James Patelunas; niece Suzanne (Michael) Sullivan; along with several great nieces and great nephews.
Joyce was a devout Catholic. She had been a long-time communicant of St. Anthony's Church where she had been a member of the Sacred Heart Ladies. Joyce enjoyed playing cards and going to concerts with friends. She was a member of the Red Hat Society. Joyce loved the times she was able to spend with her grandchildren.
Family and friends are invited to McInerny Funeral Home, 502 W. Water Street, Elmira, on Thursday, May 4, 2023, from 5:00 to 7:00 p.m. A prayer service will be held there on Friday, May 5, 2023, at 9:15 a.m. followed by a Mass of Christian Burial at 10:00 a.m., St. Patrick's Church, 604 Park Place, Elmira. A livestream of the Mass will be available through the Facebook page for Most Holy Name of Jesus Parish (https://www.facebook.com/ElmiraCatholic). Interment, with committal prayers, will then take place at St. Peter & Paul's Cemetery.
Those wishing may remember Joyce with a donation to the American Heart Association, P O Box 840692, Dallas TX 75284-0692 or on-line donations accepted at www.heart.org/donate.