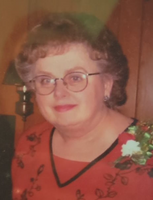 Gail H. Dwyer
Elmira: Age 83 passed away on Sunday, March 12, 2023, at Guthrie Corning Hospital. Gail was born in Elmira, the daughter of the late Gerald P. and Rita (Graves) Hannahoe. She was predeceased by her husband R. Joel Dwyer and son David J. Dwyer.
Gail is survived by her granddaughter Jolene Dwyer-Zuke, with wife Florence; sister Judith H. Saxton; great grandson Jaedyn Dwyer; niece and nephew Mary S. Woodard and Robert P. (Suellen) Sickles; 1 great-niece, 4 great-nephews and 1 great-great-niece.
Gail retired from the New York State Department of Parole, working at the Elmira Correctional Facility and Southport Correctional Facility. She was a long-time member of the Eagles Club #941 and was past president of the auxiliary. She was also a member of the Elks DOES Elmira, and the Elmira Heights Legion Post #154. Gail was a communicant of Ss. Peter and Paul Church and St. Mary's Church, Elmira.
Gail was a giver beyond expectation. She took care of her husband for 19 years while he lived in the Bath VA hospital, paralyzed. She never missed a visit and never passed up an opportunity to bring him home to be with his family on holidays and weekends. She raised her son and took in a friend or two of his that had no one. Her son was diagnosed with cancer at age 34 years. She took care of him while he was bed bound for 6 months, till he passed. She never hesitated to take on the responsibility of raising her granddaughter Jolene as her own. Gail gave to everyone who needed it and was the entire family's back bone. Even friends of family members could count on her. She single handedly took care of everyone, all while being in pain every day of her life. She had a deteriorating back since she was I6. Gail was told she would be in a wheelchair by her 40s. She gained her wings at the age of 83 and was still walking. She was the strongest women we will ever know and had just as much love in her as she did strength. She was the family's matriarch. We will all be forever grateful for her compassion and unconditional love. Gail will be missed dearly by many.
Family and friends are invited to McInerny Funeral Home, 502 W. Water Street, Elmira, on Thursday, March 16, 2023, from 4:00 p.m. to 5:30 p.m. A funeral service will be held at 5:30 p.m. Interment will be held in Woodlawn National Cemetery on March 17, 2023, at 10:00 a.m. In lieu of flowers those wishing may remember Gail with a donation to St. Jude's Children's Hospital, 501 St. Jude Place, Memphis TN 38105, or Paralyzed Veterans of America, P O Box 758589, Topeka KS 66675-8589.