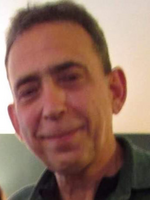 Joseph Dominic "Joe" Magno
Elmira: Age 67, passed away on Friday, March 10, 2023 at the Robert Packer Hospital, Sayre PA. Joe was born and raised in Elmira, a son of the late Joseph E. and Ermil (Copp) Magno. In addition to his parents, he is predeceased by his beloved children, Dominic J. and Emily N. Magno, and mother-in-law Edna (McDonald) Maloney.
Joe is survived by his wife Mary P. Maloney Magno; daughter Beth A. Russell of Elmira, with sons, Tyler and Ethan; son and daughter-in-law Louis D. And Rachel Magno of Elmira; sisters and brother-in-law, Catherine Kohlberger of Horseheads, Irene McCann of Pine City, Maryrose and Jerry Bannister of Liverpool NY, Frances Doane of Elmira; father-in-law Francis "Pat" Maloney of Mount Morris NY, with Bernice Hotchkiss; brothers-in-law and sisters-in-law, Jim and Melody Maloney of Pine City, Betsy and Mike Cuer of Horseheads, Nancy and Kevin McCausland of Overland Park KS, Jack Maloney of Atlanta GA; uncle Thomas Magno of Elmira; along with many nieces, nephews and cousins.
Joe worked for thirty-two years as a carpenter for Union Local 277, retiring at the age of 55. He enjoyed hunting and fishing with his son Lou, vacationing at the Outer Banks in North Carolina, and camping at Beaver Kill in the Catskills. Joe also loved riding his bicycle around the streets of Elmira.
Calling hours for Joe will be held on Saturday, March 18, 2023, at McInerny Funeral Home, 502 W. Water Street, Elmira, from 3:00 p.m. to 5:00 p.m.
In lieu of flowers, Joe's family would appreciate donations be made to the Cystic Fibrosis Foundation, 100 College Parkway, Suite 280, Williamsville NY 14221.