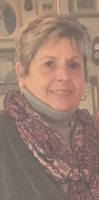 Kathleen Marie Fogarty
Age 75, passed away peacefully in Ithaca NY on Wednesday, March 8, 2023. Kathleen was born in Olean NY, daughter of the late William O. and Catherine (Gill) Smith. In addition to her parents, she was predeceased by brother William Smith and sister Cherlynne Smith. Kathleen is survived by her children with their families, Christopher J. and Kimberly Fogarty of Oak Park IL with their sons, Brayden and Reid Fogarty … Tara A. and James Daugherty of Elmira with their daughters, Hannah (Tessa) Daugherty, Elizabeth and Olivia Daugherty … Sean W. and Alicia Fogarty of Charlotte NC with their children, Brynn, Finley, Cardin and Declan … Matthew N. and Amanda Fogarty of Elmira; brother and sister-in-law Richard and Margaret Smith of Olean NY; along with several nieces and nephews.
Kathleen earned both her Bachelor's and Master's Degree from Elmira College. She taught at St. Casimir's Catholic School before going on to teach for nearly 20 years at Parley Coburn Elementary school from where she retired. Her post-retirement life included spending many hours attending the various school and life events of her grandchildren whom she loved dearly. Kathy was also an avid animal lover, who volunteered at the Chemung County Humane Society and SPCA. It was not uncommon for Kathy to be seen driving around the area, shopping at Wegmans, having lunch with a few girlfriends at Maple Lawn, taking day trips to Corning or Watkins Glen. Kathy loved to drive while listening to her Christian music. Raised Roman Catholic, she never lost her devotion to the Bible and routinely practiced random acts of kindness not only to friends and family, but more importantly to strangers who looked like they might need some help. Kathy had a unique ability to treat everyone she encountered with dignity and respect, and that will be one of the enduring qualities most cherished by her children.
Family and friends are invited to call at McInerny Funeral Home, 502 W. Water St., Elmira, on Friday, March 17, 2023 from 4:00 p.m. to 7:00 p.m. A prayer service will be held at the funeral home on Saturday, March 18, 2023 at 10:15 a.m. followed by a Mass of Christian Burial at 11:00 a.m. in St. Patrick's Church, 604 Park Place, Elmira. A livestream of the Mass will be available through the Facebook page for Most Holy Name of Jesus Parish (https://www.facebook.com/ElmiraCatholic).
Those wishing may remember Kathleen with a donation to Warm the Children c/o Elmira Heights Rotary Foundation, P.O. Box 2093, Elmira Heights NY 14903 or the Elmira Animal Shelter, 840 Linden Place Ext., Elmira NY 14901.