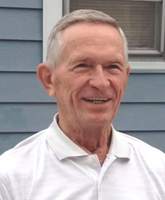 Michael T. "Mike" Cobb
Age 84, passed away peacefully with his family by his side on Monday March 6, 2023 at the Robert Packer Hospital, Sayre, PA. Mike was the son of the late Arthur and Mary (Solewski) Cobb. In addition to his parents, Mike was predeceased by his wife Ardeth Cobb, sister Patricia Considine and sister-in-law Ann Cobb.
He is survived by his children, Michael A. and Annette Cobb of Elmira, with children Justine Patterson (Matt), Brian with Christina; Patricia A. and Mark May of Sunrise, FL with son Joshua; Shawn F. and Lisa Cobb of Elmira, with children, Blake and Riley; brother Richard Cobb; sister and brother-in- law Maureen and Fran Morris; many nieces and nephews.
Mike was born and raised on Elmira's Southside. He was a US Army veteran, proudly serving his country from 1957-1959. Mike retired after 30 years of service from the Elmira Correctional Facility. A devoted husband, he was a dedicated caregiver to his wife Ardeth.
Friends are invited to McInerny Funeral Home, 502 W. Water Street, Elmira, on Saturday, March 11, 2023, from 11:00 a.m. to 2:00 p.m. A funeral service will be held at 2:00 p.m. with military honors following. Private interment will be held in St. Peter & Paul's Cemetery. In lieu of flowers those wishing may remember Mike with a donation to a charity of one's choice.