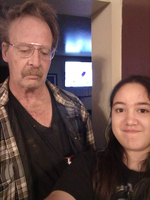 Clifford G. "Jess" Jessup
Southport: Age 69, passed away peacefully at home, with his loving family by his side, on March 4, 2023. Jess was born in Biloxi, MS the son of the late Frances (Ogrodowski) Jessup. In addition to his mother, he is predeceased by his brother Michael Jessup and father-in-law and mother-in-law Robert and Mary Dieterle.
Jess is survived by his loving wife of 48 years Jean Jessup of Southport, son and daughter-in-law Jeremy and Dianna Jessup of Elmira; grandchildren, Mykaila (Andrew Baker), Alex, Tyler, and Ian Jessup; brothers and sisters-in-law, Henry (Julie) Jessup and Tim (Mary) Jessup; sisters-in-law and brothers-in-law, Debbie Dieterle, Robert (Linda) Dieterle, Nancy (Chuck) Buzzetti, Susan (James) Cook, and Cindy (James) McCann; many cousins, nieces and nephews; and special family friends Mike and Jenn Prokopec
Jess served his country honorably in the United States Air Force from 1972-1976. He was a munitions maintenance specialist with the 355th MMS Squad (TAC) during Vietnam. He worked at Beecher Elementary School for over 30 years as the head custodian. Jess loved working on cars, computers and would help anyone who needed it.
Family and friends are invited to Jess's graveside service, where military honors will be accorded, on Saturday, March 11, 2023, at 10:00 a.m., St. Peter & Paul's Cemetery. Please use the Hillview Drive entrance to the cemetery. In lieu of flowers, those wishing may remember Jess with a donation to the Chemung County Humane Society and SPCA, 2435 State Route 352, Elmira NY 14903.