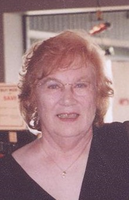 Mary Jo Cornish
Age 87, passed away Thursday, March 2, 2023, peacefully at home. Mary Jo was born in Elmira NY, the daughter of the late Henry H. and Mary E. (Kingston) McKenna. Growing up on the Southside in a house along the beautiful Chemung River, she was educated at St. Mary's and Southside High School before going onto complete her undergraduate degree at the University of Rochester, where she double majored in Spanish and Math, and graduate degree at Penn State University. A trailblazer, she excelled at everything she did. She made a career teaching English and writing alongside directing plays—especially those by her favorite playwright, Shakespeare. She was a voracious reader and excellent musician, and her love for the arts was contagious. Her grand ambitions eventually led her to education administration, which included working for a time for the United States Department of Education. She eventually settled in Painted Post, NY, where she became assistant superintendent of schools for the Corning-Painted Post School District until she retired. In retirement, she re-read the works of beloved novelists and poets, doted on her grandchildren and great-grandchildren, traveled the country, and perfected her boisterous laugh. Even in her final months, she could always be trusted to recall her favorite soliloquies from Macbeth, gently correct one's grammar, and get into mischief with her husband and caretakers.
Mary Jo was predeceased by her first husband, Roger Cornish, and is survived by her loving husband of 36 years, Ted F. Hertel of Elmira; her children, Claire (Michael Verity) of Vancouver, WA and Anthony Cornish of Elmira; her step children, Ben (Hannah) Hertel of Port Angeles WA, Howard Hertel of Ithaca, NY, and TJ Hertel of Myrtle Beach, SC; her brother Jack (Sharon) McKenna of Barboursville, WV; and her numerous grandchildren, great grandchildren, nieces, and nephews. She instilled in each of her children and grandchildren a love for literature, travel, and adventure that will stay with them forever.
Family and friends are invited to call at St. Mary's Church, 224 Franklin Street, Elmira, on Monday, March 6, 2023, from 9:30 a.m. to 10:30 a.m. A Mass of Christian Burial will follow at 10:30 a.m. A livestream of the Mass will be available through the Facebook page for Most Holy Name of Jesus Parish (https://www.facebook.com/ElmiraCatholic). Mary Jo's family would especially like to thank her caregivers Julia and Victoria for their ceaseless help, attention, and love. In lieu of flowers, those wishing to do so may remember Mary Jo with a donation to Meals on Wheels, 409 William Street, Elmira NY 14901.