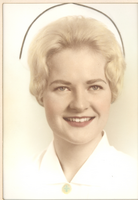 Mary Patricia ""Gogo"" Arnold
Age 79, passed away peacefully at the Arnot Ogden Medical Center on Sunday, February 26, 2023. Mary Pat was a daughter of the late Stanley F. "Packy" and Helen (Carroll) Rogers. She was also predeceased by her husband Robert Arnold, daughters, Mary Kathryn (Arnold) Micelotta, and Karen Arnold, twin grandsons Dominick and Daniel Micelotta, brother Brian Rogers, and brother-in-law William Stamp. Mary Pat is survived by daughter and son-in-law, Dianne and Eric Watson; son-in-law, Richard Micelotta; grandchildren, Emily and Rachael Micelotta, Jackson and Parker Watson; sister Carroll Stamp; brother and sister-in-law Jim and Terry Rogers; Mary Ellen Sly (Kinney) who was a cousin, but more of a sister. Also surviving are many nieces, nephews, cousins, and friends.
Mary Pat was most proud of her over 35 years as a NICU Nurse at the Arnot Ogden and the many friendships and memories from there. Her grandchildren were her pride and joy and affectionately gave her the nickname of Gogo. It was Mary Pat's wish not to have funeral services but that a party be held in remembrance at a later date. In lieu of flowers, donations in Mary Pat's memory may be directed to the Children's Miracle Network, 571 St. Joseph's Blvd., Suite 102, Elmira NY 14901.