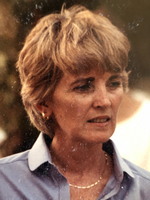 Michaeline Ann "Mickey" Sweeney
Mickey died February 22, 2023 at the age of eighty-six. Mickey was the oldest of six children of Clarence M. Sweeney and Madeline (Meade) Sweeney. She was predeceased by brothers, Dennis J. and Timothy M. Sweeney; sisters-in-law, Susan Sweeney and Maureen Sweeney; special aunts, Mary Jane Keenan and Firmina Wilkins. Mickey is survived by brothers, Martin V. Sweeney of Bradenton FL, Paul T. Sweeney of Elmira; sister Kathleen E. Sweeney of Syracuse NY with Jeffrey Cicora; sister-in-law Bonnie Sweeney of Penn Yan NY; niece Courtney Sweeney of Elmira; nephews, Martin Sweeney, Jr., Joseph "Jobey" Sweeney, Brian (Priscilla), Michael (Melissa) and John (Nicole) Sweeney, Daniel (Kerry) and Sean (Katelyn) Sweeney; several cousins and great- nieces and nephews.
Mickey had a life-long love of the arts, and even as a child she would put on plays in the backyard on Reynolds Street. In high school Mickey joined the Young Thespians and appeared in many plays and musicals, and she also worked as a lifeguard at Brand Park. One year she was crowned "Queen of the Brand Park Pool." Mickey graduated from Southside High School in 1954 and attended Elmira College for two years before transferring to Duquesne University in Pittsburgh. There she earned her Bachelor's and Master's Degrees in English.
After earning her Master's from Duquesne, Mickey moved to Washington, D.C and taught English Literature at Marymount College. During her tenure at Marymount, Mickey met many lifelong friends, including Barbara Wyles, Linda McMahon, and Denny Kaydouh. In 1971 Mickey began working for The National Geographic and she remained there for a thirty-year career, rising to become Senior Research Editor. Mickey worked on a spectrum of high-profile Geographic research projects including The Holy Shroud of Turin, King Tut's Tomb, and the Titanic. Given her background in English and preoccupation with grammar, syntax, and spelling, Mickey also served for many years on The National Geographic Style Committee.
Mickey enjoyed a full life. She was known for having a hearty appetite and enjoyed dining with friends and family. One of her fellow professors at Marymount (where the faculty ate for free) once teased Mickey that after she went to The Geographic, Marymount was finally able to balance the food budget. Mickey's favorite foods were crab cakes and all forms of dessert, especially ice cream. Her favorite cocktail was a Rob Roy.
Mickey's zest for life was not limited to the culinary arts. Her passionate and adventurous spirit loved exploring every aspect of culture: literature, sculpture, paintings, and music; and her worldly travels included Ireland, Russia, Greece, Italy, Spain, Dominican Republic, Portugal, and Croatia. For decades Mickey had seasons tickets to the Shakespeare Theatre in Washington, D.C. and to the opera at the Kennedy Center. When family members visited D.C, Mickey would often take them to the opera, and they would pretend that they understood and enjoyed it.
Mickey's character was defined by her kindness, generosity, patience, and complete dedication to family and friends. She also possessed an interior fortitude that rivaled that of the Spartans at Thermopylae.
In her final years Mickey's body and mind declined from uterine cancer and dementia, but her spirit remained unbroken. She has now gently shuffled off her mortal coil, and her unconquered spirit has moved on to its next adventure. Wherever that may be, she has likely chosen a place where everyone uses proper grammar, the crab cakes are all made with Maryland blue crab, she will not have to fight with her brother Marty over the last of the ice cream, and there is an endless supply of Denny Kaydouh's cranberry chutney. We will miss her greatly, and we wish her safe travels on the next leg of her Journey to Ithaka.
Family and friends are invited to McInerny Funeral Home, 502 W. Water St., Elmira, on Thursday, March 2, 2023, from 5:00 p.m. to 7:00 p.m. A prayer service will be held at the funeral home on Friday, March 3, 2023, at 9:15 a.m., followed by a Mass of Christian Burial at 10:00 a.m. at St. Mary's Church, 224 Franklin Street, Elmira. Committal prayers and burial will then take place at St. Peter and Paul's Cemetery. Those wishing may remember Mickey with a donation to a charity of one's choice.