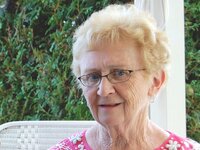 Jane M. Agan
Jane M. Agan, age 86, passed into the arms of our Lord on February 19, 2023 while holding the hands of her loving husband of 61 years, Daniel F. Agan. Jane was the daughter of William T. and Elizabeth V. "Ronnie" (McKernan) Ryan. She is survived by her daughter and son-in-law Cynthia and Patrick Weaver of Charlotte, NC with their children Nicolas, Isabel and Ella-Rae Weaver; son and daughter-in-law Martin and Ana Agan of Mountain View, CA with their son Mateo Agan; daughter and son-in-law Elizabeth and Robert Caiello of Marietta, GA with their children Sophia and Daniel Caiello; sisters, Veronica "Ronnie" Kirklighter of Severn, MD and Kathryn "Kitty" Carr of Pasadena, MD; brothers-in-law and sisters-in-law, Rich and Carol Agan, Sharon Agan, Jerry and Winnie Agan, Joe and Marion Agan. Also surviving are many nieces and nephews.
Jane was born and raised in Elmira. She was a 1954 graduate of Elmira Catholic High School. She attended Jean Summers Business School. After raising her family Jane worked in the Elmira City School District as a cafeteria employee. Since 1963 she has been a communicant of St. Mary's Church. Jane taught her children by example to be faithful and serve others. Over the years Jane had many interests. She met her friends weekly at Marion's Ceramics and crafted pieces that still adorn family homes. She loved gardening, watching and feeding birds, especially cardinals. Her children benefitted from her sewing skills making one of a kind Halloween costumes, First Holy Communion dresses and prom dresses. Above all she was proud of and loved spending time with her family, traveling to the west coast and up and down the east coast to share milestone moments. Endeared for her home cooking and baking, her care packages continued long after college, with grandchildren receiving boxes of her baked with love breads, brownies and cookies.
Family and friends are invited to McInerny Funeral Home, 502 W. Water St., Elmira, on Monday, February 27, 2023 from 4:00 to 6:00 pm. A prayer service will be held at the funeral home on Tuesday, February 28, 2023 at 9:45 am followed by a Mass of Christian Burial at 10:30 am at St Mary's Church, 224 Franklin St., Elmira. A livestream of the Mass will be available through the Facebook page for Most Holy Name of Jesus Parish (https://www.facebook.com/ElmiraCatholic).
Committal prayers and interment will follow at St. Peter and Paul's Cemetery. Those wishing may remember Jane with a donation to the Meals on Wheels of Chemung County, Inc., 409 William Street, Elmira NY 14901.