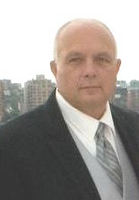 Gary Bates Augustine
Gary B. Augustine sadly lost his battle with mental illness at home on February 12, 2023. He was born in Elmira NY, a son of the late Stanley and M. Elaine Augustine. He recently relocated to Chemung, NY. Gary resided most of his adult life in Lockport and then Clarence NY, from 1982-2020. He worked for New York State Electric and Gas all of his career, starting as a Meter Reader and then progressing to Utility Construction and Maintenance. He retired after 38 years of service.
Gary is survived by his daughter Megan Ercole, son Ryan; sister Patricia Augustine Kreitzer; former wife of 30 years Donna; two adoring grandchildren, Brooke and Heidi Ercole. He had a brother-like relationship with his cousin Jean Michalko. Also surviving are several nieces and nephews, Jillian Aho, Nathan Kreitzer, Laura Carter, Adam Rau, Aaron, Jake, and Levi Sylvis, Bryan Woodburn, Sarah Alberter, Bethany Smith and Jenna Carpenter; special cousin Vera Levey; beloved in-laws and several grand- nieces and nephews including Ellie, Lukas and Benny Aho.
Gary was an outgoing man, best known for his willingness to help others, and a spontaneous sense of humor. He fully embodied Buffalo's title of "The City of Good Neighbors," as he was always found lending a helping hand to those lucky enough to call him a friend. He was making "Dad jokes" before they were popular; laughter and a sigh could often be heard in his presence. He absolutely loved speaking and spending time with the elderly. As a former member of Our Lady of Peace Church, he would deliver the Eucharist to those who were no longer able to make it to the church. Later in life, after the passing of his mother, he began volunteering at the nursing home that cared for her. Gary was a man dedicated to doing good for others, whether it was providing them with a laugh or helping them fix their electrical issues; he was ready, willing, and able.
Please join us in celebrating Gary's life on Tuesday, February 21, 2023. Calling hours will be from 9:30 a.m. to 11:00 a.m., with a service immediately following, at McInerny Funeral Home, 502 West Water Street, Elmira, NY. Flowers are appreciated, but donations are gratefully accepted to the "The Ride for Mental Health", in the team name of "Gary's Laughter". https://www.PledgeReg.com/4476/t/garyslaughter Proceeds raised will be donated to McLean Hospital, a Harvard Medical School affiliate, with a mission of education, research, and treatment for mental illness including anxiety, depression, and substance abuse.