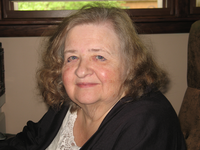 Christine Ellen "Tina" Collier
Pine City: Age 73, went to be with her Lord and Savior, peacefully at home with her family by her bedside on Wednesday, February 8, 2023. Tina was born in Elmira, the oldest of 8 children to the late Douglas and Donna (Aumick) Carpenter. She is survived by her loving husband of 53 years Kent R. Collier who selflessly cared for her in her final months; daughter and son-in-law Amy and Mickey Masker of Pine City with their daughters, Emma and Ellie; son and daughter-in-law Adam and Melanie Collier of Montour Falls with their children, Grace, Mary, Caleb, Susanna, Lillian and Graham; son and daughter-in-law Andy and Danielle Collier of Elmira with their daughter Reese; siblings with their spouses, Mark and Sue Carpenter of Elmira, Craig and MaryJane Carpenter of Pine City, Lisa and Glenn Newcomer of Pine City, Todd and Amy Carpenter of Elmira, Becky and Mike Snyder of Gillett PA, Cara and Bryan Morris of Pine City, Chad Carpenter of Pine City; sisters-in-law and brothers-in-law, Jean Collier with Gilbert Mobley Sr. of Venice FL, Nancy and Calvin Baker of Venice FL, Jack Collier of Laurel MD; also surviving are numerous nieces, nephews and cousins.
Tina was an avid writer with a true gift with words. She wrote what she lovingly referred to as her "cozy mysteries" and had several novels published. She wrote many short stories published in Prairie Times as well as being published in many different anthologies. She used her life experiences and true stories of her family to inspire her writing. Some of her most prominent characters were based on her own siblings and her three children.
Tina found her greatest joy in the simple things in life. She was full of love, peace and laughter. Her sense of humor brought a smile to all those who had the pleasure of knowing her. Her children and grandchildren were her most prized accomplishment.
Family and friends are invited to McInerny Funeral Home, 502 W. Water St. Elmira, on Monday, February 13, 2023 from 1:00 p.m. to 4:00 p.m. A funeral service will follow at 4:15 p.m. Committal prayers and interment will be at Woodlawn Cemetery on Wednesday, February 15, 2023 at 1:00 p.m.