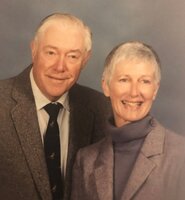 Norma Boyce Brooks
Norma Brooks, age 94 of Elmira, N.Y., passed away peacefully at home, surrounded by family on Monday, February 6, 2023. Norma was born in Ovid, N.Y., the daughter of Marion and Mathilde Boyce. She was predeceased by her husband Dr. Donald Brooks, Jr, MD, son Mark Brooks, sister June Kenyon, and niece Brenda Caslin. Norma is survived by her son and daughter-in-law Dean and Linda Brooks of Elmira; daughter and son-in-law Anne Brooks-Bacon and Bill Bacon of Elmira; grandchildren, Amber Rightmire (James) with son Parker; Eric Brooks (Megan) with children Cadance, Aidan, and Kylee; Dr. Lydia Hackenberg (Michael) with daughter Adelynn; and nephew Dennis Kenyon of Ovid NY.
Norma graduated from Cazenovia College and Syracuse University where she met her future husband Donald, in a psychology class that they shared. Prior to moving to Elmira, Norma had worked as a Psychiatric Social Worker at Kings Hospital in Brooklyn N.Y.
Norma's love of nature and animals was reflected in her activity at Tanglewood Nature Preserve as well as her frequent nature walks. She was a member of the Junior League, Thursday Morning Musicals, and had been a volunteer at the Neighborhood House. Norma and Donald traveled widely with their friends.
The Brooks family wishes to thank all for the support and care extended to Norma, especially the faithful group of caregivers who became family to Norma over the last several years. Private services will be held at North Presbyterian Church, Elmira, NY. Those wishing may remember Norma with a donation to North Presbyterian, Tanglewood, or the SPCA.