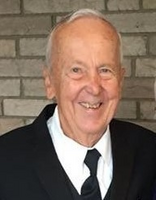 Michael Yonko
Michael Yonko of Elmira, NY, passed away peacefully on February 5, 2023. He was 94 years old. Mike was born in Johnson City, NY, to Harry and Pauline (Straskulic) Yonko. He was the second youngest of nine siblings: Charlie, Mary, Anna, John, Helen, Andrew, Susie, and Pauline.
He grew up on the family dairy farm. As a young boy, he plowed most of the 50-acre farm with horses until the family bought a used 1940 Farmall H tractor. Mike spoke affectionately of his childhood milking cows, hunting, fishing, and maintaining the tractor, the mower, and the hay baler.
Mike attended the Barnum Hill One-room School (Grades 1-8), CF Johnson Junior High School, and Johnson City High School, where he graduated in 1945. Mike ran the family farm fulltime for two years. While running the farm from 1947-1949, he pursued more education at Broome Community College, where he earned an AS in Mechanical Technology.
After working for the New York State Highway Department and the Carrier Corporation, Mike was drafted into the United States Army during the Korean War in 1950 and served until 1952, spending one of those years in Germany. Mike earned the rank of Sergeant First Class. He was trained as a mortar man and eventually became an instructor. Because of his military service, Mike was a proud member of the Elmira Heights American Legion Post #154 for 35 years.
Upon his discharge from the Army, he worked for General Electric Westover in Johnson City, NY. He enrolled at Syracuse University in 1953. While studying at Syracuse, he was a member of the Tau Beta Pi Honor Society. Mike graduated Cum Laude from Syracuse University in 1955 with a BS in Mechanical Engineering.
He started working at Westinghouse in Horseheads, NY, in June of 1955. He enjoyed a long and productive 39-year career, which ended when he retired in 1994. Mike was very proud of his Professional Engineering (PE) License, which he completed in 1967. He was always interested in and kept up on new technology, politics, and current events.
In the fall of 1957, Mike met Nancy Keefe, whom he married on July 5, 1958. They had three children: Catherine, Peter, and Michael. As a family, the Yonkos spent summers together at their cottage on Seneca Lake, where they enjoyed sunsets, wine, good food, sailing, swimming, fishing, and campfires.
After his retirement from Westinghouse in 1994, Mike and Nancy spent much of their time enjoying their two properties, traveling throughout the United States and Europe, golfing, and socializing with the Friday Night Dinner Club. Mike and Nancy lived a full and satisfying life. Their family and friends will miss them dearly.
Mike was preceded in death by his loving wife Nancy, his parents, and his siblings.
Mike will be missed by his children and their spouses: Catherine Westlake (David) of Elmira; Peter Yonko (Kristin) of Newark, DE; and Michael Yonko (Kimberly) of Webster, NY. He will also be fondly remembered by his five grandsons: Kyle Westlake (Danielle), Zachary Westlake, Benjamin Yonko, Matthew Yonko, and James Yonko.
Services for Mike will be held on Saturday, February 11, 2023, at St. Mary's Church, 224 Fulton Street, Elmira. Visitation will be from 10:30 a.m. to 11:30 a.m., followed by an 11:30 a.m. Mass of Christian Burial. Interment with committal prayers and military honors, will then take place at Woodlawn Cemetery.
In lieu of flowers, the family requests donations to the Seneca Lake Pure Waters Association (https://senecalake.org/) PO Box 247, Geneva, NY, 14456
The family would also like to express special thanks to the dedicated nursing staff at St. Joseph's Skilled Nursing Facility for the loving care they gave Mike during his stay. The family would also like to thank the compassionate staff at Woodbrook Assisted Living in Elmira for the care they gave Mike and Nancy during their brief stay there.