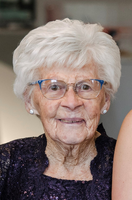 Shirley Bennett Groezinger
Shirley Ann Bennett Groezinger, aged 92, of Elmira NY, died early on the morning of February 3, 2023, at home and surrounded by her family.
Born October 8, 1930, Shirley grew up in Elmira with mother Frances Dorothy Hertel Bennett and father Donald Henry Bennett, sisters Carolyn and Marilyn, and brother Donald.
A lifelong Lutheran and member of Bethany Lutheran Church, she married Robert Groezinger in June of 1951, and they remained together for 63 years until his passing in 2014.
She worked many years as Town Clerk for Elmira, and in retirement spent winters in New Smyrna Beach, Florida with other Snowbirds from around the country. She lunched with the same tight-knit group of friends weekly, practiced Yoga, danced late into the night at weddings, and maintained her garden all the way up to her passing.
Shirley's incredible mind never left her. She was usually the most observant person in the room, with a quietly acerbic wit, and she left entire volumes of the New York Times crossword in a wake of ruin. Her hair and nails were always impeccable and her dress always smart and stylish, though during Holidays she was not above seasonal novelty wear. She loved to entertain guests and spent summers at Keuka Lake lying in the waterfront sun.
Despite her plans for immortality, Time remains undefeated, and we say Goodbye to our matriarch. She leaves behind a beautiful legacy of home, love, and family.
We remember Shirley for the pride she took in her family, her love for her husband, her small stature but mighty heart. For her sunhats worn with dryer sheets tucked in to keep bugs away during the muggy summers. For her Scotch and water, her famous egg casserole, tins full of Christmas cookies, for that blue tablecloth.
Shirley is survived by her children Beth Gerard (Rick), and Peter Groezinger (Patty), grandchildren Adam Gerard, Abbey Gerard (Pat Mathews), Ellen Eipp (Kevin & their children Caroline and Leo); Madison Miller (Ryan & their children Brycen and Hadley), Nick Galac (Emily) and Harrison Galac (Natalie Sullivan); brother and sister-in-law Donald and Charlotte Bennett; and she leaves behind her beloved cats Coco and Riley.
She is pre-deceased by husband Robert, daughter Polly Gilheney, and grandson Patrick.
Arrangements are handled by McInerny Funeral Home, and a private service will be held at a later date. In lieu of flowers donations may be made in Shirley's name to Bethany Lutheran Church, 256 S. Walnut Street, Elmira NY 14904, or the SPCA, 2435 State Route 352, Elmira NY 14903.
A Celebration of Shirley's Life, Open House will be held on Saturday, May 13, 2023, at her daughter Beth's home, 115 Wall Street, Elmira, from 1:00 p.m. to 4:00 p.m. Friends are welcome.