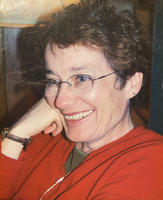 Elizabeth A. "Liz" Maloney
Elizabeth A. "Liz" Maloney, age 72, died unexpectedly on Thursday, January 26, 2023. Liz was born in Elmira, a daughter of the late Joseph V. and Ellen (Dietrick) Maloney. She is survived by her husband John Spaziani of Pine City; siblings, Martin Maloney of Painted Post, Margaret "Maggie" Maloney Scaduto (Ed) of Buffalo, James Maloney of Buffalo, Daniel Maloney of Elmira; numerous nieces and nephews including, Kathryn "Kate" Scaduto, Stephen Scaduto, Jennifer Maloney Nugent (Ben), Rebecca Maloney Payne (Jody), Thomas Daly and Daniel Daly; stepsons, Andrew Spaziani and Sean Spaziani; stepdaughters, Laura Spaziani Graham (Nick), Sandra Spaziani; sisters-in-law Mary VanWert (Michael), Anne Orlando (Matt), brother-in-law James Spaziani; "adopted" son, Sean Gormley, who she sponsored to immigrate from Northern Ireland; and a large extended family of cousins, and many friends.
Liz graduated from Southside High School in 1968, received her Bachelor's Degree from Penn State and a Masters in Social Work from University of Albany. She started in the mental health field as a psychiatric social worker at the Chemung County Mental Health Clinic, later at the Elmira Psychiatric Center ultimately working with special needs children at GST BOCES before retiring. She was active in St. Mary's parish, including singing in the choir and involved with work and groups passionate about elevating the role of women in the church. Liz actively pursued many interests: dancing (Filippetti Dance Academy), Elmira Little Theatre, travel, book clubs, and numerous social, environmental and charity organizations. She was a member of Common Time choral group and volunteered at Diven Elementary School. Liz was a member of the Ladies Division of the Ancient Order of Hibernians. She loved Irish music and dancing and was very proud of her Irish heritage. She was full of life and laughter.
Family and friends are invited to McInerny Funeral Home, 502 W. Water St., Elmira, on Friday, February 3, 2023, from 4:00 pm to 7:00 p.m. A Mass of Christian Burial will be held at St. Mary's Church, 224 Franklin St., Elmira, on Saturday, February 4, 2023, at 12:30 p.m. Those wishing may remember Liz with a donation to any environmental cause or any cause for the benefit of children.
Members of the Ladies Division of the Ancient Order of Hibernians will meet at McInerny Funeral Home on Friday at 6:45 p.m. to conduct a prayer service for Liz. Signed, Patty Corcoran, President.