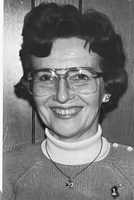 Cathleen A. "Murf" Sullivan
Cathleen Ann Margaret Murphy Sullivan, "Murf", age 96, passed away at St. Joseph's Skilled Nursing Facility on Tuesday, January 24, 2023, from complications of the aging process.
Born on Tuesday, May 25, 1926, in Elmira, N.Y., Cathleen was the last surviving member of her family having been predeceased by parents Edward L. and Maude M. (Redder) Murphy Sr., brothers and sisters, Edward L. Jr. (Catherine), Mary Elizabeth Stevens, John F. (June), Lawrence E. (Jane), and Joan C. Loftus. She is also predeceased by brothers-in-law and sisters-in-law, Mary Agnes "Dee" and Jack Guthrie, Pauline "Polly" and Walter Ervin, Paul and Margaret "Peg" Sullivan, Richard "Dick" and Ann Sullivan, Robert "Bob" Sullivan, and Philip "Phil" Sullivan.
After graduating from St. Mary's Grammar School and Southside High School, Cathleen graduated from St. Joseph's School of Nursing as a Registered Nurse in 3 years, with the special designation of a 'Grey Lady', for those whose training was accelerated due to WWII. She was the first member of her family to attain a post-secondary degree.
On Saturday May 13, 1950, Cathleen married honorably discharged serviceman Joseph L. Sullivan at St. Mary's Church in Elmira. Joseph predeceased Cathleen on May 12, 1988. They have three sons, Thomas, of Elmira, with Joey and Katie; Brian (Sally) of Illinois; and Kevin of Florida, with Colin, Kenley, Kellie, and Daniel. Cathleen is also survived by seven great-grandchildren, sisters-in-law, Eleanor "Nora" (Shea) Sullivan, Kathleen "Kay" (Sullivan) Burger, Mary Ann (Kamin) Sullivan; as well as nieces, nephews, and extended family members living across the country with their families.
A lifelong Elmira resident, Cathleen and Joe lived at various addresses on the Northside. She worked as a Registered Nurse for Dr. Arthur D. Smith, first on W. Henry St. and then at the Elmira Medical Arts Center at St. Joseph's Hospital where, along with her bosom buddy Teresa Burin R.N., they served generations of families across many decades. After retiring Cathleen remained active with the St. Joseph's School of Nursing Alumni Association until her debilities would no longer permit it. Cathleen also worked as an Election Inspector for many years as her civic duty.
A lifelong devout member of the Catholic Church, upon her retirement, Cathleen was a daily communicant of St. Casimir's Church. In fact, Cathleen kidded that when she, as a Murphy, and her Irish Catholic husband first joined St. Casimir's they almost had to add a Polish suffix to their name to be registered at the church near their home.
Cathleen will be especially remembered for her ability to recall names and faces and family relationships for friends, neighbors and patients well into her 90s, and regardless if they lived on the North, South, East or West sides, they were her friends. She also befriended and was a lifelong resource for generations from twenty to seventy years younger than her age.
Family and friends are invited to McInerny Funeral Home, 502 W. Water Street, Elmira, on Monday, January 30, 2023 from 4:00 p.m. to 6:00 p.m. A prayer service will be held at the funeral home on Tuesday, January 31, 2023, at 12:45 p.m., followed by a 1:30 p.m. Mass of Christian Burial at St. Patrick's Church, 604 Park Place, Elmira. Interment, with committal prayers, will then take place at St. Peter & Paul's Cemetery.
In lieu of flowers Cathleen wanted remembrances to be made in her name to the Eucharistic Adoration Chapel, 1012 Davis St. Elmira, NY 14901.
Finally, Cathleen wished to extend a Thank You to ALL of the staff members that cared for her and loved her while she was at St. Joseph's Skilled Nursing Facility.