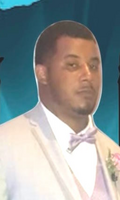 Jeremy J. Shazer
Age 34, died Saturday, January 21, 2023. Jugg was born in Elmira, son of Robin L. Granger and the late Anthony D. Shazer. In addition to his father Jugg was predeceased by infant daughter Lilliana; grandparents Virginia and Grant Shazer. In addition to his mother Jugg is survived by children, Jeremy Jr., Jermoney, Jermirlynn, Aryelle, Aryiana, Alexyiana and Millie; sisters, Santana Parker, LaShanda Briggs; brother Terrance Jackson; grandmother Elizabeth Palmer; a host of aunts, uncles and cousins; special cousins, Dom, Alfie, Rayshawn "Bub", Shalimar, Desiree, Mary, Anderson, Lacinda, Lontell, Jahkia, Vahnjordan; special friends, Melissa Bryant, Larissa Styles, Amber Harvey, Joe Myers, Corey Wright, Corey Narosky, Daryl Green, Dub, Bugs, Woo.
Jugg had a love of sports with football being his favorite. He played in a local adult football league and was a Philadelphia Eagles fan. As a coach for a youth football travel team, the 607 Panthers, Jugg was able to pass on to kids his passion for the game.
A funeral service will be held for Jugg on Monday, January 30, 2023, 11:00 a.m., at McInerny Funeral Home, 502 W. Water Street, Elmira. Interment will follow at Woodlawn Cemetery.