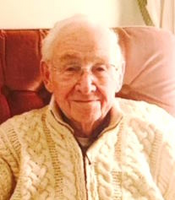 Joseph A. "Joe" Cumming
Elmira lost one of its "Greatest Generation" heroes on January 13, 2023, when Joseph Allen Cumming, 95, passed away. A veteran of both World War II and the Korean War, Joe (Buzz) was born in Nogales, Arizona on February 20, 1927, to Joseph Allen Cumming Sr. and Helena Monticello Karns. He was married to his loving wife, Gladys (Glad) Cumming, who died last August, for 71 years. Joe is survived by 5 adult children: John (Sheila) of Bellaire, Tx; Richard (Lynn) of Concord, NH; Cynthia Weigle (Luke) of Durham, NH; Betsy Bills (Steven) of Sterling, VA; Douglas of Elmira. Joe and Glad have 5 grandchildren: Laura, Luke, Daisy (Daniel), Kelly, Sarah, and three step-grandchildren: Jane (Todd), Brette, and Paige. Joe is also survived by sister-in-law, Joyce Shutts (Robert), first cousin, Terry Shannon, as well as many nieces and nephews. He is predeceased by his only sister, Joanne Hammond (Gene), (2005), and his in-law siblings--Barbara/Bob Collins, Robert Shutts, Jimmy/Barbara Shutts, and Richard/Marlene Shutts.
Joe's father died when he was seven and his maternal grandparents, Mollie Nash-Karns and Harry John Karns helped raise Joe in Arizona. At 17, near the end of WWII, Joe joined the Army and was assigned to the Pacific Air Command stationed in the Philippines. He was deployed in Tokyo for several months following the Japanese surrender. Joe returned to Arizona after an honorable discharge and earned a BA in Public Administration from the University of Arizona where he was a member of Sigma Alpha Epsilon. Following graduation, Joe was commissioned in the US Air Force and served on active duty in Korea during the conflict. He remained active in the Reserves, retiring in 1987. As with many in the "Greatest Generation," Joe was intensely patriotic, taking great pride in his country and service. At the same time, his humility, intelligence, and kindness were recognized by everyone who knew him. When visiting the WWII Memorial in Washington DC, he wore his Veteran's ball cap and was mobbed by hundreds of visitors thanking him for his service. (Joe decided to retire his cap to the closet.)
While serving at Sampson Air Force Base, located on Seneca Lake, Joe met his future bride Gladys (Glad), on Halloween 1951 in Seneca Falls where she was school Superintendent of Music. They were engaged at Thanksgiving and married on December 30 in Elmira. Many were skeptical because of the courtship's brevity—however it turned into a 71-year marriage worthy of the movies. They spent their years together raising 5 children and leading accomplished lives. Following their marriage, Joe and Glad were stationed in Okinawa, Japan before returning to Elmira where they lived together for over 60 years.
Joe was employed for over 32 years by the New York State Division of Parole. He traveled weekly throughout New York state, which formally recognized Joe's outstanding and dedicated service.
Joe was a member of the Westside United Methodist Church for over 40 years, serving as Treasurer and Administrative Board Member, and President of the United Methodist Men. He was later a member of New Beginnings Methodist Church for many years. In addition to church work, Joe, and Glad delivered Meals on Wheel in Elmira for many years.
Joe's historical expertise on US Railroads was well known by all who knew him and many others throughout the U.S. He was particularly knowledgeable of the Erie, Lehigh Valley, and New York Central Railroads as well as the Southern Pacific. Joe was an avid model railroad fan, attending many shows and railroad museums throughout the country. He managed and volunteered at a railroad museum in Sayre, Pennsylvania for several years. He was an expert in WWII aircraft. On several occasions, he was able to fly in refurbished B-29s that were touring the country.
Because of his Arizona roots, Joe often transported his family across the country in a fully loaded station wagon. The family's proven stamina for car trips led them to vacations to Civil War sites such as Gettysburg and yearly beach vacations on Cape Cod. Joe and Glad continued their travels after retirement. Joe loved the National Air and Space Museums and they both attended several space shuttle launches. To the very last month of his life, Joe and his son, Doug went out to dinner on weekends, meandered through aviation and train museums, and visited nearby lakes.
His children all cherish memories of his generosity, and patience during their childhoods—supporting their activities and aiding educational pursuits. He enjoyed surprising the family with a brand-new car every 2 or 3 years. He taught his offspring the importance of unselfishness, education, religion, and patriotism. Moreover, was adept at teaching his children how to drive.
He always asked his visiting children how they were doing and what they were up to even from his hospital bed. To Joe – everyone else besides himself – mattered first!
The family extends heartfelt thanks to the medical staff at Arnot Ogden for their care of Joe over the last 12 years of a recurring illness. Additionally, sincere thanks to Kathy Roberts, Joe's caretaker, who stayed with him until his last breath.
Services for Joe will be held on Saturday, June 24, 2023 at McInerny Funeral Home, 502 W. Water Street, Elmira. Visitation will be from 1:00 p.m. to 2:00 p.m., followed by a 2:00 p.m. service. Interment, with military honors, will then follow at Woodlawn Cemetery.