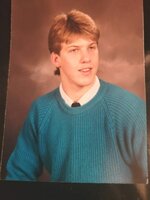 James Michael "Mikie" Phillips, Jr.
Horseheads: Age 52, passed away on Monday, January 9, 2023. Mikie was born in Elmira, and raised in Horseheads, a son of J. Michael and Dorothy (Henry) Phillips. In addition to his parents he is survived by his brothers, Ben R. Phillips of Horseheads, Robert H. Phillips of Elmira, with Philecia Spallone and their son Hudson: grandfather Robert Henry of Elmira; aunts and uncles, Bob and Deb Henry of Owego NY, Dan and Pam Phillips of Pine City, Teddy and Patty Phillips of Cicero NY, Eleanor Hill of Elmira, Tom and Lisa Phillips of Hector NY, Rosie and Mike Wojtyna of Elmira; friend Hope Buell of Horseheads; numerous cousins; canine companions, Lemon and Lucy. Jim is predeceased by his maternal grandmother Mary (Eames) Henry, paternal grandparents David and Nataline (Santucci) Phillips, aunt and uncles, Dolores, Edward, Duane, David Phillips.
Mikie was a 1989 graduate of Horseheads High School, where he played football and wrestled. He was an avid outdoorsman, enjoying hunting and fishing. Mikie had a 24-year career with New York State Corrections.
A Mass of Christian Burial will be held for Mikie on Friday, January 13, 2023, at 12:00 noon, St. Patrick's Church, 604 Park Place, Elmira. A livestream of the Mass will be available through the Facebook page for Most Holy Name of Jesus Parish (https://www.facebook.com/ElmiraCatholic). Interment, with committal prayers will follow at Woodlawn Cemetery.
Those wishing may remember Mikie with a donation to the Horseheads Animal Shelter, 150 Wygant Road, Horseheads NY 14845.