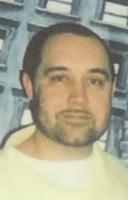 Douglas E. "Chopper" Blaney Jr.
Elmira: Age 42, passed away on Saturday, January 7, 2023. Doug was born April 16, 1980, in Elmira, a son of Becki Jo (Ferris) Blaney and the late Douglas E. Blaney, Sr. In addition to his father, he is predeceased by brother Jason and aunt Terri Dickerson. Doug is survived by his daughter LaTasha Blaney of Elmira, with fiancée Michael Orji, siblings, Angel Blaney, Jessica Jennings, Shawn Blaney, Cody Blaney, Dylan Blaney and Josh Blaney; many aunts, uncles, cousins, nieces and nephews; longtime friends Amber Martin and Chad Williamson. Doug had a talent for arts and crafts and would make special drawings, cards and portraits for his family. He will be missed by all who knew him.
A Celebration of Doug's life will be held on Saturday, January 14, 2023 from 2:00 p.m. to 7:00 p.m. at the VFW, 113 Keefe Street, Elmira.