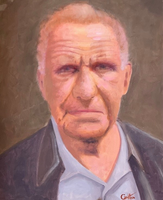 James Howard Kuhn
AKA: Jim, Jimmy, Uncle Jim, Uncle Jimmy and last, but not least, Mustang Jim
Passed away peacefully in the early morning hours at Arnot Ogden Hospital on December 31, 2022 after a brief illness. Jim recently celebrated his 83rd birthday. He was born on Dec. 13, 1939 to Lawrence and Mildred (Wilson) Kuhn who predeceased him, along with his youngest sister Dorothy (Dottie) Hardy in 2018, sister-in-law Carol Kuhn, and niece Cindy Thorton, along with many aunts, uncles and cousins that he was very close to. Jim is survived by his brothers, Lawrence (Ruth) Kuhn Jr of Dixon, Missouri and David Kuhn of Lowman, New York and sisters, Mary Howland of Elmira, NY, and Edna Borowick of Watervliet, NY.
Spending time with "Uncle Jim" was something many of his nieces and nephews looked forward to. They included Teresa (Dane) Carl, Mary Martelli, Fredrick Martelli Jr., Eric Kuhn, Haans Kuhn, Joseph Borowick, Brenda Borowick, Sharron French, Gary Kuhn, Thomas Kuhn, Lawrence Drake and the late Cindy Drake Thorton. Later many great nieces, nephews, great great nieces and nephews and many younger cousins were added to the list. Hence the name "Uncle Jim and Uncle Jimmy" came in to play.
Jim worked for the New York State DOT for 30 years. After 15 years of helping to keep roads clear and safe to drive on and building new roads he went to work on the bridge crew as a bridge crew repairman until his retirement in 1997. It was there that he earned the nickname "Mustang Jim."
At a very young age everyone who knew Jim knew that he had "need for speed." He not only liked fast cars, but he also liked the older, classic model's and other than a few El Camino's that he owned (he liked the "look") his car of choice was always a Ford; especially his beloved Ford Mustangs.
Although Jim lived with his sister Mary for the last few years, one would seldom find him at home relaxing. You usually could find him sitting at the counter with a cup of coffee in hand at one of his favorite restaurants or cafes. These included the former Mano's Diner, Lights Bakery and Coffee Shop, Curley's and Wellsburg Diner, just to name a few. So, if you think of him, enjoy a cup of hot, fresh coffee in honor of Jim Kuhn. I'm sure it will bring a smile to your face.
Family and friends are invited to McInerny Funeral Home, 502 W. Water Street, on Wednesday, January 4,2023 from 10:00 a.m. To 11:00 a.m. A funeral service will follow at 11:00 a.m. Interment will take place in Forest Lawn Memorial Park on Friday, January 6, 2023 at 9:30 a.m.