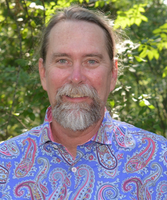 John Daniel Miller III
John Daniel Miller, III, of Lake Wesauking, near Towanda, PA, died peacefully after a long illness on September 29, 2022, at the age of 65. John was predeceased by his parents John D. Miller, Jr. and Phyllis Stevens Miller. John is survived by his wife Katherine van den Blink Miller; sisters: Anne Miller, Kristin Griffey, and Karin Schultz (Charles); nephews and niece: Raymond Griffey (Shannon), William Griffey, Jack Griffey, and Kylie Foss (Chris); and great nieces Beatrice Foss and Louise Foss.
John was born on May 7, 1957 in Omaha, NE, the second of four siblings. The Miller family moved from Omaha to Media, PA in 1966 and back to Omaha in 1972, where John graduated from Westside High School. After attending the University of Nebraska at Omaha for one year, John graduated from the Berklee College of Music in Boston, MA, where he made the Dean's List. He then moved back to Omaha, where he formed, fronted and composed for several notable local bands, including "The B Sides," "Digital Sex," "The Flying Kangaroos," and "The Front."
In 1995, John moved to Lake Wesauking where he had spent many summers growing up, and he helped build a beautiful new house to replace the older family cottage. John's favorite activity was Sunfish sailing, particularly in the weekly races which he helped organize and where he won many first place trophies. John also was an active member of the Lake Wesauking Association for many years. John met his future wife Katherine there and on July 12, 2014, they were married by Katherine's father, the late Rev. Dr. Arie Johannes van den Blink, with the shimmering lake in the background.
John and Katherine shared a love of nature, and they enjoyed several trips to the Southwest, camping in various National Parks throughout Utah and Arizona. John was an accomplished cook and he especially liked making Mexican food.
John was a multi-talented musician and award winning composer who received two Midsouth Regional Emmy Awards in collaboration with his good friend, the late Stuart Grasberg, for scoring the soundtracks on two of Stuart's award winning PBS Documentaries: 1999 "Luminous Impressions" (Music Composer, Arranger/Instrumental) and 2001 "Chihuly in Charlotte"(Music Instrumental). After receiving his second Emmy, John explained in a newspaper article, "I'm extremely pleased, thrilled to death. Film scoring is something I've always been intrigued with. It's fun just to do it, but recognition is great." John was the Technical Director for the Bradford County Regional Arts Council where he managed live performances at the Sayre, Towanda, and Canton theaters until his retirement in 2016.
Donations in John's memory can be sent to the Lake Wesauking Conservancy,
138 Wesauking Drive, Towanda PA 18848. The funeral service and burial will be private.