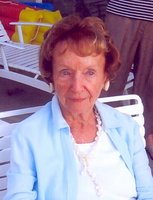 Winifred McCabe "Winnie" Hinds
Age 99, of Elmira, passed away peacefully on Saturday, August 17, 2019, at St. Joseph's Skilled Nursing. Winifred was born in Malone, NY, a daughter of Herbert and Lena McGillic McCabe. She is predeceased by her husband John Barry Hinds, Jr. with whom she shared 74 years of marriage; sisters, Rita Trimm and Kathryn Hall, and infant brother Kenneth McCabe. Winifred is survived by her daughters, and their families, Jacqueline H. and D. Gregory Van Dussen of Batavia NY with children, Daniel J. (Ellen) Van Dussen of Boardman OH, and Michael J. (Barbara Szelest) Van Dussen of Montreal, Quebec, Canada; Marcia H. and Paul Hertzog, with daughter Kathryn B. Hertzog, of Elmira; great-grandchildren, Aidan, Maya, Cyril, and Martin Van Dussen; brother- in- law, George Allen Hinds of Chicago; along with several nieces and nephews.
Winifred was the first female employee with the New York State Police. She worked for many years as a medical secretary for various employers in the Elmira area. Winifred was a longtime member of the Elmira Country Club. She enjoyed her home on Greenridge Drive where she and Jack raised their family and lived for 57 years. She was a loving mother and devoted grandmother. Winifred was an avid bridge player, reader, gardener, generous hostess, and was a longtime volunteer with St. Joseph's Hospital Auxiliary. In her retirement years Winifred and Jack enjoyed traveling and spending many winters in Florida. Winifred was also a longtime communicant and active member of Our Lady of Lourdes Church, Elmira.
Winifred's family will greet friends at Ss. Peter and Paul Church, 161 High Street, Elmira, on Friday, August 23, 2019 from 8:45 a.m. until 9:45 a.m. Winifred's Mass of Christian Burial will follow at 10:00 a.m. Interment, with committal prayers will follow at Forest Lawn Memorial Park. Winifred's family thanks the staff and residents at Woodbrook and St. Joseph's Hospital for the care and love provided to her. In lieu of flowers memorial donations can be made to St. Joseph's Hospital Auxiliary 555 St. Joseph's Blvd. Elmira, NY 14901.