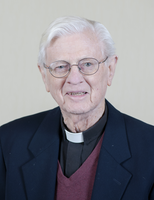 Reverend Robert C. MacNamara
"Fr. Mac"
Age 93 passed away peacefully on Friday, February 8, 2019. Fr. Mac was born December 30, 1925 in Elmira, a son of Charles and Charlotte (Feehan) MacNamara. He is predeceased by his sisters and brother-in-law: Mary Beatrice and Harold Lownsberry, Margaret MacNamara, and brother: J. Joseph MacNamara. Fr. Mac is survived by nieces: Lynne Thompson of Colorado, Ellen McGurgan of Florida, Anne Lyman of Alabama; fellow priests; special friends, the McIntosh family; along with many other friends too numerous to name. Fr. Mac was a 1944 graduate of Elmira Catholic High School. He then attended St. Andrew's and St. Bernard's seminaries in Rochester in preparation for the priesthood. He was ordained June 2, 1951 by Bishop James E. Kearney at Sacred Heart Cathedral in Rochester. Early assignments took him to Hornell, Pittsford, Rochester, Ithaca and Irondequoit. In 1970 he was appointed Pastor of St. Ann's Church, Hornell continuing on at St. Vincent de Paul in Corning and then St. John of Rochester in Perinton. Fr. Mac retired in June 1992….officially becoming "The Retired Shepherd". Retirement brought him back to his home town where he took up residence at St. Mary Our Mother Rectory, Horseheads, then moving to St. Mary's Rectory, Elmira. He never really retired. Fr. Mac assisted the local parishes wherever he was needed, right up until the past year. Fr. Mac was very proud of the recent title given him by Bishop Salvatore Matano: "Dean of Priests, Most Senior Retired Priest, Rochester Diocese". He enjoyed going to the theater and football. The quintessential University of Notre Dame football fan, Fr. Mac made annual treks to South Bend, the last one being in September 2017. He loved Notre Dame and would have a countdown of days from the end of one season to the beginning of the next. Calling hours will be on Thursday, February 14, 2019 from 4:00 p.m. to 7:00 p.m., St. Mary's Church, 224 Franklin Street, Elmira. A Vigil Service will follow at 7:00 p.m. Fr. Mac's Mass of Christian Burial will be at St. Mary's Church on Friday, February 15, 2019, 12:00 noon. Committal prayer and interment will follow at St. Peter & Paul's Cemetery. One of Fr. Mac's favorite quotes from Idylls of the King – The Passing of Arthur…."More things are wrought by prayer than this world dreams of." Rest in peace, Fr. Mac.
Officers and members of the Ancient Order of Hibernians will gather at St. Mary's Church on Thursday at 6:30 p.m. to conduct a service for our brother, Fr. Mac.