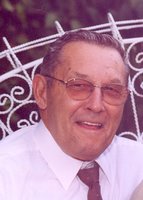 John J. "Jack" Wheeler
Age 85 of Elmira, passed away unexpectedly at the Arnot Ogden Medical Center on Tuesday, October 30, 2018. Jack was born in Elmira, son of the late George and Hazel (Farr) Wheeler. He was predeceased by his loving wife of 64 years Beverly Andrews Wheeler. Jack is survived by daughters and sons-in-law, Brenda and William Bobby of Elmira with children, William (Jessica) Bobby, Jr. and Melissa (Corey) Ripley; Debra Weigel of Elmira with children, Megan and Jon Weigel; Jacqueline and Samuel Gentry of Elmira with children, William and Lauren (Brent Hulslander) Gentry; son Michael Wheeler of Elmira with children, Daniel and Jacob Wheeler and Staci Moffa; daughter-in-law Laurie Wheeler; sister and brother-in-law, Sharon and George Depew of Davenport FL; sister-in-law Nancy Shannon of Midway GA; great-grandchildren, Lillian Gentry, Nevaeh Holmes, Kyler Ripley, Kailey Ripley, Sammy Hulslander, Jackson Bobby, and Anthony and Vinny Moffa; step great- grandchildren, Hannah and Katherine McConnell; several nieces and nephews; and special childhood friend Mary Ann Sophia. Also surviving are his beloved canine companions, Ida Bean and Molly.
Jack had worked as a plate maker for Moore Business Forms for many years and later worked in central stores department for Chemung County. Jack enjoyed spending time outdoors where he liked to fish, hunt and work in his garden. His most enjoyable times were those spent with his family.
Family and friends are invited to McInerny Funeral Home, 502 W. Water St. Elmira on Monday, November 5, 2018 from 5:00 p.m. to 6:00 p.m. A funeral service will follow at 6:15 p.m. Committal prayers and interment will be held at Woodlawn Cemetery on Tuesday, November 6, 2018 at 9:30 a.m. The Wheeler family would like to extend a special thanks to Dr. Reddy and the Arnot nurses and staff on 4D for the support and compassion they provided to Jack.