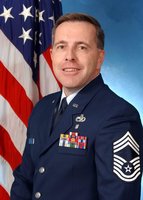 Phillip Michael Erway
Chief Master Sergeant, Retired
With broken hearts and great sadness, the family of Phillip "Phil" Erway announce that he went home to be with his Lord and Savior Jesus Christ. He passed unexpectedly at age 56 on Saturday, March 17, 2018.
Phil was born to Margaret and Robert Erway in Elmira on April 16, 1961. He graduated from Edison High School in 1979 and served in the Air Force from 1979 to 2006. He retired as a Chief Master Sergeant. He was a civilian contractor in Kuwait for one year. Upon returning to the United States, he worked for Corning, Inc. and Arnot Health. Most recently, he was employed by Erway Ambulance Service.
Phil met the love of his life, Marlyn in 1984 while stationed overseas in the Philippines. They married in 1985. In addition to the Philippines, he was stationed in Turkey, Japan, Oklahoma, Washington, California, Florida and New Jersey.
Phil would be the first to tell you not to be sad, but be happy for him now that he is in the arms of Jesus. Phil's devotion to his Lord was his mission and he carried out God's work with great joy. Phil touched many people's lives just by showing God's love and kindness. He was a gentle soul, had great compassion for those in need, only surpassed by his deep love for Jesus Christ. He made everyone feel loved just by sharing his love. Phil's priorities in life were faith then family. He always made time for his family, even when it was difficult to do so.
His infectious smile and laugh could brighten the darkest day and his bear hugs would give off the warmth in his soul. One of his greatest joys was when his sons would surprise him and come home on leave. Both his sons have followed in his footsteps and joined the Air Force. He would tell his family how much he loved them on a daily basis. Phil had a beautiful voice and used it to worship the Lord both overseas and in the States. He and his family enjoyed karaoke, going to the movies, sharing meals together, playing videos and spending time just hanging out together. Phil loved Keuka Lake and spent time there with his family each summer.
His involvement in his church and community included teaching Sunday school and Vacation Bible School, he coached the swim team in the Philippines that participated in the Junior Olympics and most recently directed the Schola Choir at St. Mary's Church.
Phil was blessed with a large and loving family. He is preceded in death by his mother Margaret. Phil is survived by his father Bob; his wife Marlyn, mother-in-law Rosa, sons, Shawn and Scott and daughter Melissa (Christian), brothers Bruce (Solveig), Joe (Sharon), Chris (Kathy), sisters, Joann (Paul), Mary (Nick), brother-in-law Jun, cousin Lilet and numerous nieces and nephews.
Calling hours are at McInerny Funeral Home, 502 W. Water Street, Elmira, on Thursday, March 22, 2018 from 4:00 p.m. to 7:00 p.m. A prayer service will be held at the funeral home on Friday, March 23, 2018 at 9:00 a.m., followed by a Mass of Christian Burial at 10:00 a.m. at St. Mary's Church, 224 Franklin Street, Elmira. Interment with committal prayers and military honors will then take place at St. Peter and Paul's Cemetery.